Yes to a glamorous pout, no to cruel experiments, how does that sound? If you care about animals, it's really simple: choose cruelty-free lipstick. While I'm not typically the bossiest person, when it comes to animal welfare, I do tend to get fanatic. #sorrynotsorry
There is no excuse for what the big cosmetic companies are doing to lab animals. Brands that are more concerned with profits than ethics don't deserve our support. One of the few things in our power to convey this message to them is to take our business elsewhere.
Wait, lipstick is tested on animals?
If that sort of matches your reaction right now, then perhaps you'd also like to check out these articles:
They explain in more detail how most of the A-list brands still actively partake in animal cruelty, even if they tell us they aren't testing on animals. It's a dirty little loophole.
Now if on the other hand, you're thinking "lady, preaching to the choir here, can we get on with it?"
Sure thing. Let's make a pass at those cruelty-free lipsticks!
There is a lot of variety in this compilation of cruelty-free lipstick brands. The abundance of ethical products and the many different colors, textures, and density/coverage they bring to the table is exciting.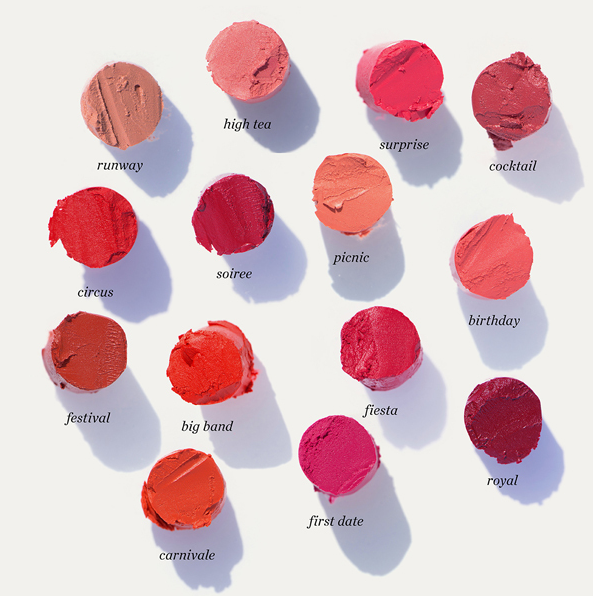 Natural lipstick
A quick heads-up.
As a matter of personal interest and experience, I'm only including brands here that are more or less natural.
Non-toxic and/or natural skincare and makeup ingredients are a hot topic these days. That's not what this list is about, though, at least not intentionally. For different reasons that we won't get into right now, natural cosmetics are my default setting, with very few exceptions, so if that resonates with you, great!
Cruelty-free but not natural
It happens to be that a lot of the more natural lipsticks coincide with the cruelty-free ones, whereas the opposite is true for main-stream cosmetics – whether it be drugstore or luxury brands.
Lipsticks that are not very natural but cruelty-free nonetheless are a minority. (All I can think of off the top of my head is the drugstore brand e.l.f.)
There is a logical reason: brands with a strong sense of ethical entrepreneurship, those that care, usually care about the same set of agenda points. It's a level of consciousness thing!
The typical concerns that go hand in hand: Respect for the environment, the wellbeing of animals, and advocating an overall healthy lifestyle for humans.
Supporting organic agriculture
It is one thing for brands to use natural ingredients; if they're also organic, even better. Pesticides pollute the soil and groundwater on a large scale, impacting life today and for generations to come.
Vegan-friendly options
Are any of these lipsticks compatible with a vegan lifestyle?
Definitely, though not all "natural" brands are automatically vegan. Beeswax, carmine, and lanolin are animal-derived ingredients often found in natural lipsticks. Certain brands make it a point to abstain from all animal-derived substances.
The most common ingredients of animal origin used in lipstick are beeswax and carmine.
Carmine
Carmine is a red colorant made from crushed, pulverized and chemically treated beetles. There is no way to make carmine without actually killing the bugs, so it obviously isn't the most animal-friendly substance.
Do beetles have feelings? Heck, I don't know – they sure aren't as cute as puppies and kitties, but who knows what their world looks like? You'll have to decide whether you're comfortable with excluding insects from your cruelty-free clause, or not.
Beeswax
Collecting beeswax does not necessarily entail killing the bees, at least not when it's done properly. Nevertheless, collecting beeswax comes down to politely destroying the bees' home – one they've worked very hard to build. It isn't a huge stretch to view this as unethical, regardless of the way in which it is done.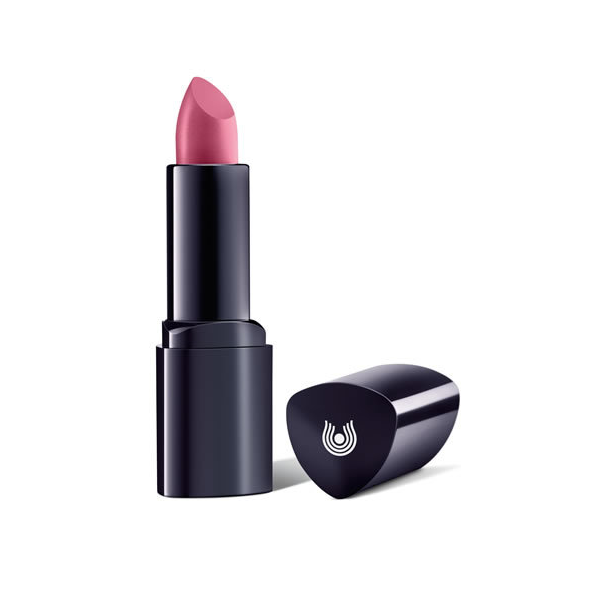 1. Dr. Hauschka
Cruelty-free: yes
Vegan: no
Organic: NATRUE CERTIFICATION LEVEL Natural Cosmetics with organic portion At least 70% of natural and/or derived natural ingredients, where applicable, stem from organic agriculture or controlled harvesting of wild plants.
Dr. Hauschka cruelty-free lipstick
The creme de la creme when it comes to natural, organic and cruelty-free lipstick, Dr. Hauschka is a very popular brand in Europe. Dr. Hauschka is always free of free from synthetic fragrances, dyes and preservatives, mineral oils, silicones, and PEG. What I love most about Hauschka lipstick is its softness and very nourishing texture.
Dr. Hauschka does not test on animals and does not have other parties carry out animal testing on their behalf. This applies to finished products as well as the ingredients used.
The brand works following holistic principles, and many of the botanical ingredients used come from Hauschka's very own biodynamic garden of medicinal plants in Germany.
Dr. Hauschka is not is vegan. You'll notice many animal-derived substances on their labels: lanolin, honey, propolis, beeswax, lactose, and royal jelly. Ethically sourced, but of course, that won't do if you are vegan.
Ingredients: Water/Aqua, Alcohol, Daucus Carota Sativa (Carrot) Root Extract, Prunus Amygdalus Dulcis (Sweet Almond) Oil, Persea Gratissima (Avocado) Oil, Glycerin, Mica, Cetyl Alcohol,Simmondsia Chinensis (Jojoba) Seed Oil, Macadamia Ternifolia Seed Oil, Butyrospermum Parkii (Shea Butter), Anthyllis Vulneraria Extract, Calendula Officinalis Flower Extract, Fragrance/Parfum (Essential Oil), Geraniol, Limonene, Linalool, Citronellol, Coumarin, Citral, Benzyl Benzoate, Bentonite,Sodium Cetearyl Sulfate, Xanthan Gum, Citric Acid, Iron Oxides, Titanium Dioxide/CI 77891, Ultramarines/CI 77007, Zinc Oxide/CI 77947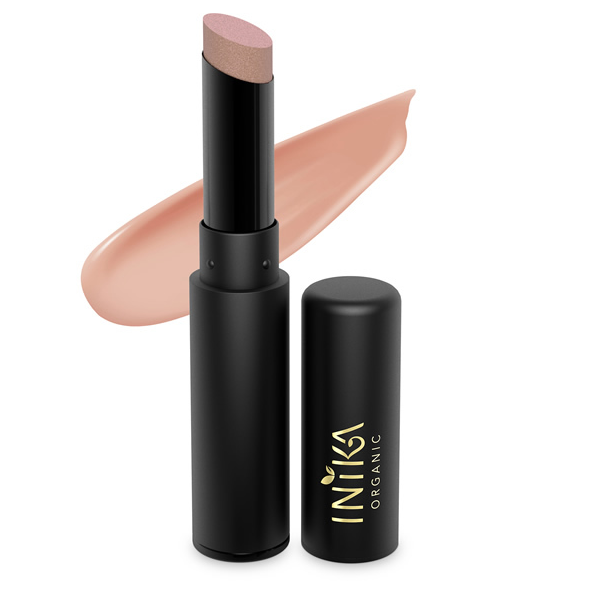 2. Inika
Cruelty-free: yes
Vegan: yes
Organic: yes
Inika is certified cruelty-free (by Australia's Choose Cruelty Free Organisation) as well as listed with PETA, and on top of that Inika carries the Leaping Bunny logo. The brand is also certified vegan (by the UK Vegan Society) across all products. The UK Vegan Society is one of the world's most recognized vegan certifications.
Inika has it all
Inika, the perfect trifecta of cruelty-free, vegan and organic!
My personal experience with Inika's lip products is quite good. One of the colors received in a discovery box was not flattering, but that's just no luck. The texture was lovely, it's not a bad product.
Inika's certified organic lip tint is rather sheer and can come in very useful, either for a more natural look by itself or as a second layer over something more pronounced.
The lipstick was awesome. On the dryer end, which made it last longer (as in great staying power, not super nourishing). I lost this one before it was finished, and do still miss it and think of it, which says something.
This little pot is very nice and has a similar texture, though I much prefer a stick to keep germs and bacteria from finger-dipping at bay.
3. Bellapierre
Cruelty-free: yes
Vegan: no
Organic: no
Bellapierre lipstick is very moisturizing, and the color is so vibrant! Staying power is rather impressive as well. I used a brighter hue of pink and a hint of color always seemed to stay behind after the main bit had worn off.
This mineral makeup brand is not vegan or organic, but nice nonetheless. Buttery soft, and highly pigmented,
Because Bellapierre is not vegan and doesn't appear to be doing anything special for the environment, animals or people, I'd probably not buy again.
Not to say it wasn't an excellent lipstick, a fairly natural and cruelty-free option that was enjoyable to use. It's just that there are so many other great brands to discover and try out.
4. Vapour organic beauty
Cruelty-free: yes
Vegan: yes
Organic: yes
Vapour Organic Beauty is awesome. The Aura Multi-Use is more rich and nourishing than the similar product by Inika. It's velvety soft and moisturizes the lips a bit too, an added bonus you can probably tell by now I tend to appreciate.
Don't be put off by the strange name – this is really a lipstick as far as I can tell. The fact they say it can also be used as a blush and whatnot doesn't change that.
5. Odylique
Cruelty-free: yes
Vegan: no 
Organic: yes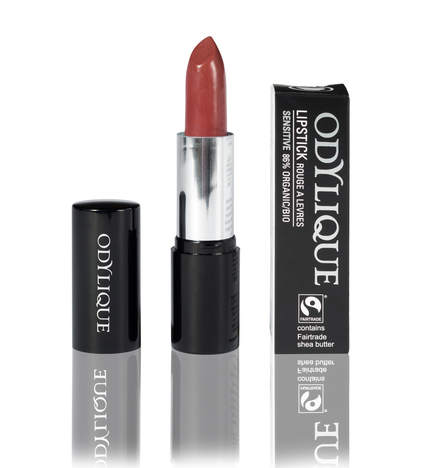 Odylique never uses any synthetic dyes. Nor does the brand use carmine for color. Their lipstick is not vegan though; it contains beeswax.
Big fan of Odylique skincare, I haven't but had the chance to try one of their lipsticks or other cosmetics yet.
6. Lily Lolo
Cruelty-free: yes
Vegan: no
Organic: no
Lily Lolo uses beeswax, carmine, and lanolin in lipsticks. They have vegan products (for example the BB cream) but as a brand, Lily Lolo is not vegan.
Lily Lolo eye shadow is lovely, but I can't yet speak to the lipstick.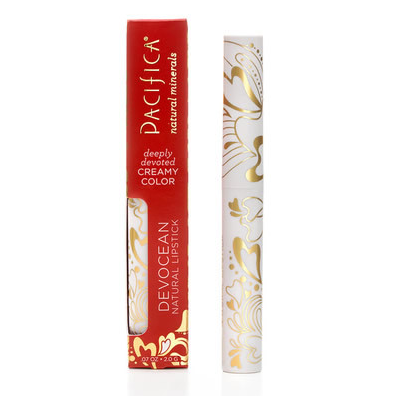 7. Pacifica
Cruelty-free: yes
Vegan: yes
Organic: no
There clearly are enough luxury cruelty-free lipsticks to splurge on, but what if you're looking for an affordable one? Pacifica is a cruelty-free cosmetics brand (they do both makeup and skincare). As the cherry on the cake, Pacifica is also completely vegan. Ready for some shopping that is both animal and budget-friendly?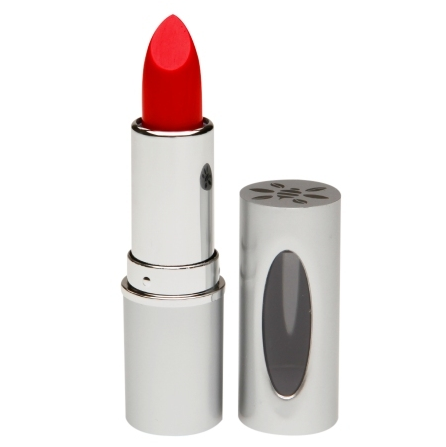 8. Honeybee Gardens
Cruelty-free: yes
Vegan: yes
Organic: yes
Cruelty-free certified and vegan, as well as gluten-free, non-GMO and made with lots of organic ingredients, Honeybee gardens is another budget-friendly choice. Honeybee Gardens is very focused on natural ingredients, and this is reflected in their branding and packaging. Budget-wise Honeybee Gardens could be Pacifica's more natural cousin.
Take a look at this insane amount of colors to choose from: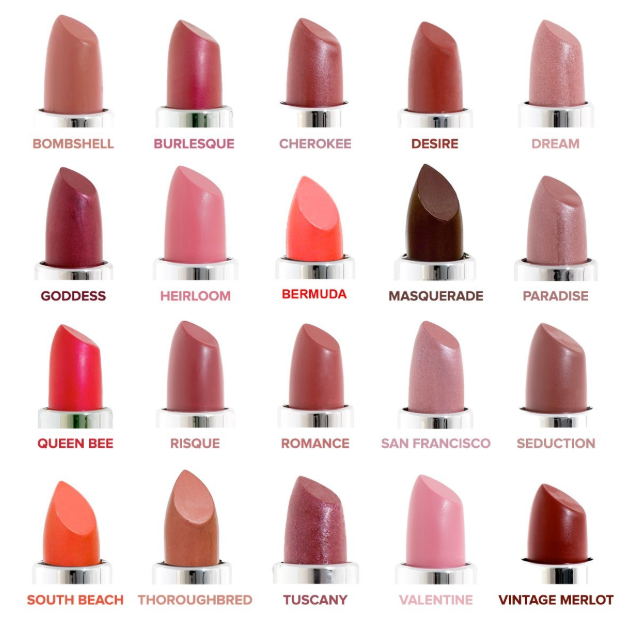 By the way, did you catch that "yes" for being vegan? For a brand called Honeybee Gardens, I'd expect them to be centered around beeswax as a natural ingredient – perhaps coming from in-house beehives surrounded by their own gardens. You get the idea. Well, if they have gardens, the bees aren't at work there for anything other than their own benefit, because Honeybee Gardens is completely vegan.
9. 100% Pure
Cruelty-free: yes
Vegan: yes
Organic: unclear
One hundred percent pure, or 100% Pure, uses fruit pigments in their cruelty-free makeup. The brand is open and honest about their cruelty-free approach and has great explanatory articles or their website, such as this one on how they're able to sell in China without doing any animal testing at all. (Spoiler: 100% Pure ships orders to Chinese customers out of Portland, Oregon. They don't technically import anything – hence, no lab tests. Eat that, China.)
100% Pure fruit pigmented cruelty-free lipstick is on the pricier end but has rave reviews all across the board from thousands (!) of customers. I can't believe I haven't tried any of these yet – a situation to be remedied soon.
10. Juice Beauty
Cruelty-free: yes
Vegan: no 
Organic: yes
Most Juice Beauty skincare and makeup products are vegan, but it still isn't a fully vegan brand.
So far the first 10 cruelty-free lipstick brands.
Here are a few others I'm looking into, trying out or have on the wish list:
Neek Skin Organics (vegan)
Ere Perez (all products are vegan, except the mascaras, which contain beeswax)
PHB Ethical Beauty (PHB stands for Pure. Handmade. British. and the brand is completely vegan.)
Rituel de Fille (natural ingredients, but uses carmine)
Ilia (not vegan: beeswax)
RMS (not vegan: beeswax)
Jane Iredale (a luxury brand, not vegan)
Have you tried any of these?