Being kind to animals is at the forefront of your mind. Thank you for being a compassionate, beautiful soul! But did you know that isn't the only reason to choose a cruelty-free sunscreen?
Sunscreen that hasn't been tested on animals is not just the only decent choice for animal lovers, these products are also typically reef-safe. So you're not only taking a stance against animals in laboratory cages but also helping the less cuddly ones you might meet when snorkeling.
Not to mention how important the overall health of our oceans is in the grand scheme of things. And speaking of health… Those natural ingredients in many cruelty-free sunscreens may be better for us humans, too.
Here's a long list of cruelty-free sunscreen brands that are also reef-safe (and a lot of them use natural ingredients). Or browse the editor's picks. with favorites for various ages and activities, ranging from intense/sweaty to looking fabulous while doing nothing.
But first, here are some SPF-related tidbits everyone should be aware of. This background information about sunscreen/sunblock is good stuff to know for anyone who ever uses sunscreen. I mean, do you know what those numbers really mean? Or how much you're supposed to apply in order to match the protection factor in the packaging? Before writing this article, I did not.
Sunscreen: over-the-counter drugs, or cosmetics?
Sunscreen plays a big role in animal testing, especially in the United States. Here's why. The FDA does not label sunscreen as a cosmetic, but as an over-the-counter drug. Drugs are legally required to be tested on animals.
Sunscreen makes up a BIG market share since so many people use it at one moment or another. Imagine the message that would be sent to companies if a lot of people were to make the jump to cruelty-free sunscreen?
Classifying sunscreen as a drug is really just a matter of semantics. In Europe, it falls under cosmetics. Animal testing of cosmetics there has been banned over ten years ago. There are enough other and better ways in which the safety of products can be determined than through cruel experiments on non-consenting animals.
Sun Protection Factor (SPF)
SPF stands for Sun Protection Factor.
As for how the sun protection factor is calculated: If you can normally stay in the sun for – let's say – ten minutes, before you start to burn, with an SPF 15 sunscreen on your skin this time gets multiplied by fifteen. Following this example, you should be able to spend 10 x 15 minutes exposed to sunlight before burning – the number fifteen to be replaced with whichever SPF you're looking at.
The importance of applying enough sunscreen
According to a study done in 2016 on human volunteers, many sunscreens fall short when it comes to living up to the SPF advertised on the bottle. Most of the sunscreen brands tested in this study are not cruelty-free. La Roche Posay's Anthelios appeared to be the best performing one. I have used Anthelios before going cruelty-free, and can confirm it works really well. Out of the ones included in this study, two cruelty-free sunscreens made the 'recommended' list: Trader Joe's Spray SPF 50 and Ocean Potion Protect & Nourish SPF 30.
Another observation from the same study is that mineral sunscreen appears to be less likely to meet their SPF claim than chemical sunscreen. However, they do point out part of the problem is people don't use enough, and don't re-apply often enough.
Considering this particular study does not look at the potential cell-damage caused by chemical sunscreen, mineral sunscreen is still by far my preferred type. Not all mineral sunscreen lotions have been included either, so any conclusion about sun protection factors falling short can hardly be the bottom line for all physical sunscreens.
It does make pretty clear how important it is to use something with a high SPF, even if you don't think you need it. Aiming high on the SPF scale (30+) is great for two reasons: to maximize the amount of protection for your skin, and because we just never seem to apply the amount we really should.
How much SPF do you really need?
To match the SPF on the bottle, you need to apply the amount of sunscreen used in the official calculations. Because 2 milligrams per square centimeter of skin sounds rather abstract, we need an easier way to gauge this amount. When I started looked up the weight of a cream/lotion, I was hoping to find a food-related comparison. (Is 2 mg a grain of rice, a pea-sized dollop, or more like a grape…?)
Something even better popped up. In this article by Nicki Zevola Benvenuti, she calculates how much sunscreen is needed to cover her face. The result: about a quarter teaspoon.
We tend to wear much less sunscreen than the amount that is used to determine the sun protection factor. Between not lathering up with the "proper" amount of lotion, and not reapplying as often as we should, the actual SPF we get from our sunscreen can be much lower.
With that in mind, you would think it sounds logical to choose a cruelty-free sunscreen with the highest SPF you can find. However, when you get into the higher SPF range, here's another little tidbit worth knowing.
The SPF curve
Picture SPF values as a curve, and imagine that curve shooting up steeply at first, before flattening out. Taking brackets of 20 as an example, the difference in protection between SPF 10 and SPF 30 is much bigger than between SPF 30 and SPF 50. A product with SPF 50 protects a fair bit more than one with SPF 10. Something with SPF 85 only offers point-something percent more protection than the SPF 50 sunscreen. Whether that's a worthwhile investment depends on your skin type. For most people, anything between SPF 30 and 50 is a great choice.
These well known sunscreen brands are not cruelty-free
I bet we can all cite at least a good five well-known sunscreen brands off the top of our heads. Sadly, most – if not all – of those test on animals in one way or another. When you think of how immense the market share of these companies is, there's definitely some change to be made in the realm of cruelty-free sunscreen and sunblock.
Many of the brands we see on the shelves are nothing other than labels, and part of the portfolio of (=owned by) larger companies. As a rule of thumb, animal lovers should be ready to boycott anything owned by Unilever, Proctor & Gamble, Coty, or Johnson & Johnson.
Some of the better known sunscreens that aren't cruelty-free:
Aveeno
Banana Boat
Coppertone
Dermalogica
Hawaiian Tropic
La Roche-Posay
L'Oreal
Neutrogena
Nivea
However, if you think going cruelty-free will limit your options to just a handful of choices you're about to be pleasantly surprised…
25 Cruelty-free sunscreen brands
There are more cruelty-free brands than regular ones! Some are larger, more established brands of natural(-ish) skincare that have been around for a while. Alba Botanica, Aubrey Organics, Pacifica, and 'Yes to' are fairly well-known names that, with a bit of luck, can be found in department stores. Others are less common "indie" brands you'll rarely see on shelves, such as 3rdRock, Sunumbra, Annmarie Gianni, or Beauty by Earth. Online is the best way to shop for those. If given a chance, they may pleasantly surprise you!
Not only is there no shortage of cruelty-free sunscreen brands, but their ranks are also filled with lots of specialty products.
Whether it is for the face, the body, the beach, daily wear under your makeup, or an afternoon in the park… Whether you want something with a tint that can almost double as a foundation, something super tenacious for a sweaty hike or surf session, something gentle enough to protect baby, something affordable enough to slather on the kiddos every day or something exclusive with anti-aging benefits, it's there.
Acure
Alba Botanica
All Good
Annmarie Gianni
Arbonne
Aubrey Organics
Babo Botanicals
Badger
Beauty by Earth
Honest Company
Jason
John Masters
Juice Beauty
Kate Somerville
Kiss my Face
Mad Hippie
MyChelle Dermaceuticals
Nature's Gate
Ocean Potion
Pacifica
100% Pure
3rd Rock Essentials
Suntegrity
SunUmbra
Tarte
Yes to Cucumbers
Does the list seem like a lot to weed through? It is! Not to worry – Next, I'll go over some personal favorites, and tips for different occasions.
Top cruelty-free sunscreen picks
Tip: For more on cruelty-free cosmetics, take a look at Cruelty-free 101: Are cosmetics tested on animals? and if makeup has your interest, check out these posts on Cruelty-Free Makeup and 20 Fab Cruelty-Free Lipstick Brands.
1. Favorites for the face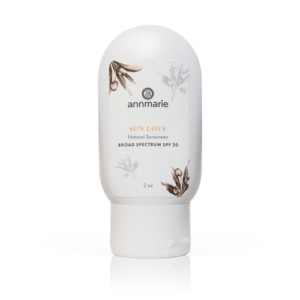 Annmarie Gianni Sun Love is a lovely facial sunscreen for everyday use. It's "only" SPF 20 but packs a punch. It is completely natural, and many of the ingredients are organic or wild harvested. This sunscreen has a beige tint, which can be a good or a bad thing depending on your personal preference. It gives my face a nice, even tone without the need for foundation.
When you want protection to go hand-in-hand with looking the part, this one's an excellent choice. When you're roughing it with water sports or play, the stuff that requires regular applications, I'd recommend something cheaper.
Babo Botanicals Daily Sheer Sunscreen (Extra Sensitive for Face) SPF 40 is another favorite product. It goes on slightly white, but when you're done spreading it out, the whiteness is totally gone. I initially got this one for my baby, but I am wearing it a lot on my face. Babo's facial sunscreen is not greasy at all. Give it a minute to dry after application, and you'll see how it totally disappears.
SunUmbra sunscreen also does very well as a facial sunscreen. Anyone of the series would work, but you could try the classic with its beige tint, or the daily for (invisible) medium-high protection.
Speaking of which: protection-wise, SunUmbra is a beast. Coming from someone who gets sunburn on the way to the mailbox, that means a lot! I've used it on hikes, outdoor activities, and long walks. It has impressive staying power while being the absolute cleanest sunscreen (free of toxins) you'll find. The combination of those two crucial things makes SunUmbra a definite winner. The generous tube lasts a very long time, too.
2. Best cruelty-free sunscreen for the body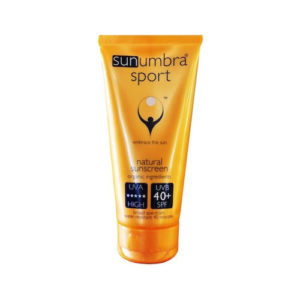 Sunumbra is a cruelty-free sunscreen for the face, the body, or both. It protects really well, isn't the least intimidated by sweat or water, and very natural.
Alba Botanica has both products made with chemical and mineral sunscreen ingredients. It is a very popular and, as such, accessible choice.
Unfortunately, I'm not super positive about the Alba sunscreens I've tried. Neither are the reviewers of this spray. Alba's very emollient facial sunscreen, for example, made my eyes tear and sting every single time. Demoted from the face to the body, it worked fine, as long as I didn't accidentally rub my eyes.
However, I do love them as a brand and would try their other sun products. When you need something right away (any sunscreen trumps no sunscreen!), Alba is a cruelty-free brand you'll find on the shelves of many stores, from health food stores to supermarkets. Online, find Alba on Amazon, iHerb, and Vitacost at competitive prices.
3. Best cruelty-free sunscreen for babies & kids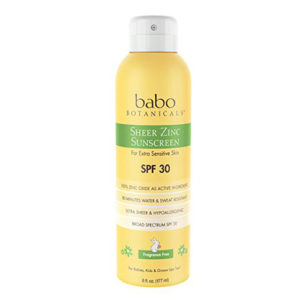 Babo Botanicals is a brand that specifically has babies and small children in mind. It was my baby's first sunscreen because of its natural and gentle ingredients, sheer/clear coverage, and high SPF. Once more swimming and splashing water are happening, it may be time to switch to something more sturdy but that depends on one's skin type.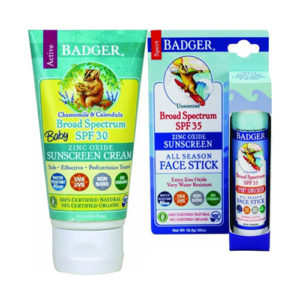 Badger is an accessible, affordable and very natural choice. The kids may need some convincing the white beach-guard-look is totally hip. 😉 On the flip side, the stick stays in place so well it has to be scrubbed off in the shower at the end of the day.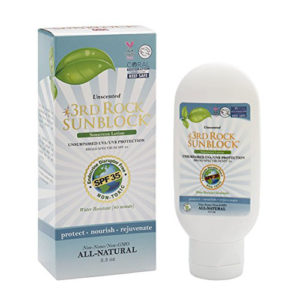 3rd Rock is available online, and a great natural, organic cruelty-free sunscreen with a hefty amount of 23.5% zinc oxide.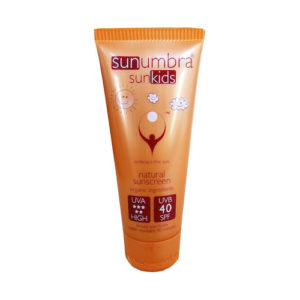 Sunumbra "kids" stays in place better than most other sunscreens. Either one of the Sunumbra series (kids, family, face, regular) shouldn't disappoint and they can certainly be used interchangeably.
Physical sunscreen vs. chemical sunscreen
The active ingredients used in sunscreen fall into two categories. One type provides a physical barrier, laying on top of the skin. The other kind works chemically, once absorbed by the skin. Not much of a surprise here – these two types of sunscreen are called physical and chemical sunscreen ingredients.
Physical sunscreens are titanium dioxide and zinc oxide. They protect by reflecting the sunlight. The harmful effects of UV rays are countered, because of the reflecting barrier formed by small physical particles. Titanium dioxide and zinc oxide are both minerals.
Chemical sunscreens are (among others) oxybenzone, avobenzone, homosalate, octocrylene, ethylhexyl salicylate, and butyl methoxydibenzoyl methane. Basically, if it isn't one of the two physical sunscreens mentioned above, it most likely falls in the category of chemical sunscreens. Some are patented by brands.
Potential issues with chemical sunscreen
Chemical sunscreen absorbs the UV rays through a chemical process. There are potential concerns that this chemical interaction may not be the healthiest thing for the skin. While the chemical filters prevent the skin from burning, there is some evidence that certain chemical sunscreens are potentially toxic, and disruptive to the hormonal system. A possible side effect of chemical sunscreen is cell damage through the release of free radicals. Free radicals contribute to premature aging.
There is also some data showing the degree of absorption of chemical UV filters by the body. Tests in Switzerland and in Spain have found considerable amounts of chemical sunscreen substances (oxybenzone and a few others) in human breast milk.
Oxybenzone
Oxybenzone specifically probably is the most controversial chemical sunscreen at the moment. It has been linked to delayed puberty, as well as hormone disruption. It has also been shown to be toxic to the reproductive system of mice, and interfere with development. Both oxybenzone and retinyl palmitate are suspected to increase cell damage and the risk of developing skin cancer.
Between the potential longer term health risks, the link with premature aging, the fact that these chemical sunscreens are extensively tested on animals, and surfacing evidence of a detrimental effect on the environment…? My mind is easily made up in favor of a cruelty free sunscreen containing the physical filters zinc oxide and/or titanium dioxide.
Even though the American Academy of Dermatology maintains that oxybenzone is safe, Hawaii is looking at outlawing oxybenzone containing sunscreens due to its disastrous effects on the health of coral reef.
Are zinc oxide & titanium dioxide tested on animals?
A potential concern with chemicals used in sunscreen is that they are known irritants, and potentially carcinogen. That being said, if your aim is to go cruelty free, the main concern is most likely that chemical sunscreen ingredients have invariably been tested on animals.
It doesn't seem fair to consider something to be a cruelty-free sunscreen, when the ingredient(s) used were tested on animals prior to being made available to the manufacturers.
So what about physical sunscreen substances such as zinc oxide – have these been tested on animals?
Physical sunscreen ingredients appear healthier for the body as a whole, and the skin in particular. Physical sunscreen has been around much longer than any newly discovered chemical one. Zinc oxide and titanium dioxide are natural minerals and simply reflect the sunlight. If they have been tested on animals, it did not happen recently.
Even if animal testing has happened at some point, no new studies are needed to confirm their safety. I am not able to find any studies related to zinc oxide or titanium oxide. They are generally seen as safe (unless inhaled, which is a non-issue in the case of sunscreen) and have been for a very long time.
Nano-particles
Nano zinc or titanium is definitely not cruelty-free. A simple search brings back many animal tests that have been and are being conducted, mainly on rats.
While nano-particles of both zinc oxide and titanium dioxide are currently tested on animals, I haven't been able to find much about animal testing of non-nano zinc oxide and titanium dioxide.
I wouldn't go so far as to say that no animal studies have been done in the past to determine their safety, but I did not find any data. If you happen to know or come across information about animal testing in relation to the minerals used as physical sunscreen ingredients, I'd be most interested.
What you can do to help end animal cruelty
Aside from switching to cruelty-free sunscreen yourself, what can you do?
Please share the message with all of your family, friends, and even distant acquaintances – the outdoorsy sportsmen and women, enthusiastic gardeners, and those who escape to the tropics once or twice a year. Cruelty-free sunscreen makes great birthday gifts or stocking-stuffers for the sun worshippers in your social circle!
Sources:
https://www.cnn.com/2012/05/16/health/sunscreen-report/index.html
https://www.accessdata.fda.gov/drugsatfda_docs/nda/2008/022009s000_SumR.pdf
https://en.wikipedia.org/wiki/Overchoice
https://www.ncbi.nlm.nih.gov/pubmed/27012956
https://www.webmd.com/melanoma-skin-cancer/news/20160517/sunscreen-spf-report-2016#2
https://www.ncbi.nlm.nih.gov/pubmed/29232646
https://www.ncbi.nlm.nih.gov/pubmed/22612478
https://www.ncbi.nlm.nih.gov/pubmed/11407932
https://www.ncbi.nlm.nih.gov/pubmed/25207381